What to buy
How To Warm Your Feet Outside In Frost And Snowfall
In the winter cold, everyone needs care and warmth, including skiers, climbers and anyone who spends much time outdoors in the cold. Unique high socks with heating will not let you freeze during the winter cold.
It's very easy to get sick in winter. To keep your feet from freezing, it is worth putting high socks with heating on them. Socks are made of high-quality hypoallergenic materials. Heated socks for skiing are something that will certainly bring joy during a long hike in the snow.  Heated socks will keep your feet warm during winter activities, walks, sports and hiking, as well as fishing and hunting. They will quickly warm up your toes, soles, foot lifts, ankles and will protect you from colds, as well as ease the pain of arthritis.
High socks with heating are powered by a compact battery, which will not interfere with active movement. Such an addition to the equipment will not let your feet freeze at the lowest temperatures. Electric ski socks are compatible with most models of ski boots. They ideally take the shape of a leg with the help of heating.
Advantages of heated socks
The heated socks have several operating modes: 37-48°C, 50-55°C, 60-65°C. Depending on your preferences and the external temperature, choose the mode that suits you best at the moment. Switching the heating temperature is carried out by a button located on the control unit.
The socks are made of 100% high-quality material (80% cotton, 12% polyester, 8% elastane) and are protected from tear-and-wear. The socks are made of breathable fabric, elastic and soft. At the same time, additional tear-and-wear protection is provided on the heel and in the finger area, so the socks will last you a long time.
Socks have long-term autonomous operation period: up to 6 hours. Each sock is powered by a 2200mah battery. Their charge is enough for several hours even when using the most powerful temperature regime.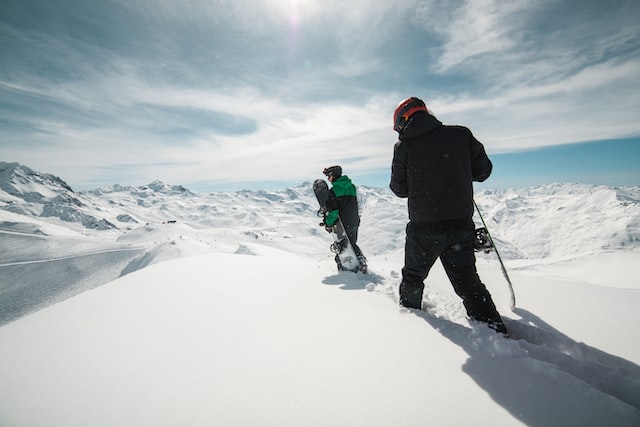 Principle of operation
The heating of the feet is carried out by infrared radiation, which emits an energized hydrocarbon fiber located on the inside of the socks. Infrared rays are able to warm up the body by 1-2 cm, which is just enough to heat the fingers and the entire foot. The batteries of the product are placed in a special pocket in the upper part of the socks. They won't stop you from walking or running.
When buying socks, you purchase a set that consists of heated socks, 2 batteries; a power adapter and user instruction.
Using socks is very simple. There is a button with a built-in LED indicator on the control unit. With its help, the heating is turned on and the temperature is selected. At the same time, the LED lights up in different colors depending on the selected mode. Heated cocks are created for your comfort and convenience during the cold winter weather.