Are you looking for a fun and unique way to exercise, or just interested in bouncing around like a kid again? Trampolines for adults have become increasingly popular both in Canada and worldwide as well.
But how do you choose the right adult trampoline for you and what are some good examples of them? Keep reading.
Questions to ask when choosing the right adult trampoline
Choosing a trampoline can present a lot of considerations. Size, shape, safety features, warranties, even the color and design… the list is long. However, trampolines for adults pose some specific questions, such as:
What's the single user weight limit? Weight limits matter when it comes to choosing a trampoline for adults.
Are you planning to use it more for fun or fitness? Although trampoline workouts are fun, you need to know the main purpose of getting the trampoline
Is the trampoline weatherproof? Not all trampolines are suitable for the weather in Canada. Make sure to check that the trampoline is not only waterproof, but its parts are also UV-treated. 
Having determined your answers, it is time to compare your choices.
Top 3 options for adult trampolines 
The suitability of trampolines for adults varies based on their manufacturer. Keep in mind that manufacturers should take adults' needs into account as well. Here are some solid trampoline options for adults.
Best overall: 16 Sport HD
Known for its no single user weight limit and exceptional bounce, the ACON 16 Sport HD is continuing to be the top choice for any trampoline enthusiast. Many families opt for this gigantic trampoline as it can withstand well, nearly anything. The best part – it can be used throughout the year even in snowy conditions!
Heavy, sturdy frame keeps the trampoline firmly in place when kids and adults are practicing jumps and tricks. It also comes with Performance springs that have already received rave reviews among the trampoline tricking community. 
Pros

Cons

Suitable for the whole family

Exceptional bounce 

Huge jumping area

Extensive safety features

No single user weight limit

Price
Best rebounder: 55in with handlebar (round)
While jumping on an outdoor trampoline is truly thrilling for adults, most adults are looking for a mini trampoline for fitness purposes. One of many rebounder options is the ACON 55in round rebounder. Coming in both black and white, this fitness trampoline for adults is made of durable materials; expect proper frame, strong bungee cords and a handlebar for both stability and max performance. The classic shape fits in most places and it is perfect for any indoor workouts. 
Pros

Cons

Good bounce area

Comes with handlebar

Stable and sturdy frame

Sleek design

Not foldable

Mainly for indoor use
Best small model: 6ft trampoline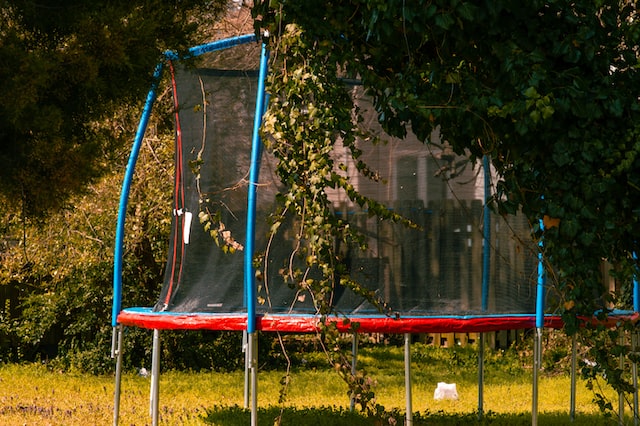 While the adult trampoline introduced before is the top choice, not everyone has the possibility to get a huge, professional level adult trampoline to their backyard. If that's the case, you may consider a mini sized outdoor trampoline. It comes with a more decent price of CAD 439 yet the bounce and its springs are of excellent quality. 
Pros

Cons

Sturdy frame

Popular entry-level product

Suitable also for indoor use

Friendly price point 

No enclosure

Has a weight limit (220 lb)
Conclusion
Choosing the perfect adult trampoline can be a bit of a mystery. However, with our tips, you should be able to find the right jumping arena for you in no time!