The decoration by flowers is an impeccable decor of each event. Floristry is something more than just decorating a room with beautiful flowers. A truly talented decorator is both an artist and a psychologist. It is important to understand what emotions a flower arrangement should evoke in the audience.
Phyto- walls in shopping malls, tables with vases in restaurants, decorated wedding cars — all this is done by florists-decorators.
Making original flower arrangements
Every flower, even the most modest, has beauty. Flower arrangement has common principles with architecture, painting, and sculpture. These are design and balance, color and texture, shape and line. The success of any arrangement is in a harmonious combination of flowers, foliage, branches, roots with vases and the interior environment where it is located.
Design of wedding corteges and celebrations
Wedding flower decoration has been used since ancient times, and now wedding floristry is a very popular and in–demand type of service. Decorating a wedding with flowers can have many incarnations: these are flowers in the bride's hairstyle, and in the groom's buttonhole, and bouquets on the tables and in the hall. Wedding floristry also includes car decoration. A composition made up of fresh flowers can decorate the roof of a car or its hood; bring a certain chic and sophistication to the celebration.
Decoration of the festive hall
Flowers are an excellent material for decorating the hall. You can hide any shortcomings of the space with their help.
It is impossible to imagine a festive table without flowers. A simple table instantly turns into a festive one.
To decorate the festive hall with fresh flowers, you need to choose both the plants themselves and the color scheme correctly.
Flower arrangements look good on the backs of chairs. Florists can choose either separate flowers or whole compositions.
To decorate the ceiling, fresh flowers are most often combined with artificial ones, since decorating a chandelier with fresh flowers is quite problematic — they will quickly wither under the influence of heat from the lamp. Fresh flowers with fabric or garlands look beautiful on the ceiling.
Flowers in pots, vases, wreaths of flowers are used to decorate windows. Combine floral arrangements with candles and fabric to create a more romantic atmosphere.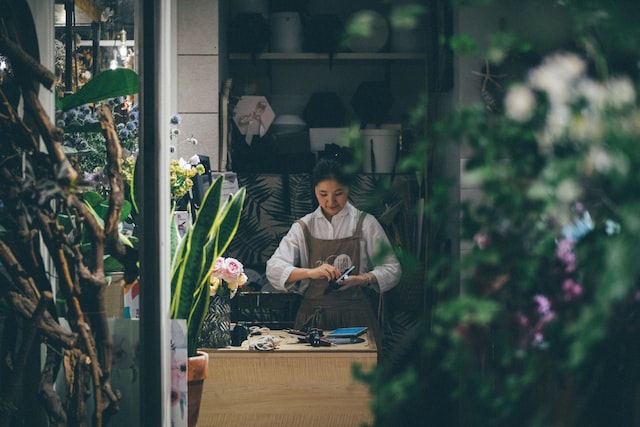 Protocol floristry
It is a decor of business meetings, forums, conferences, negotiations, corporate parties. This direction often goes separately: business events are usually designed according to the brand book, in accordance with the corporate colour scheme. For example, a client can order table compositions in the colors of the logo.
Seasonal and thematic floristry for premises
Fresh flowers are not necessarily used here. Artificial plants, branches, balloons and even books can be used as materials. Such services are ordered by coffee shops, restaurants, hotels, shops and urban spaces. The florist can decorate the premises before concerts and exhibitions.
You can order the delivery of flowers and bouquets at any time convenient for you, as well as floral design at florist in Calgary. You can also attach a greeting card, a fruit basket, a soft toy or an original vase as a gift to a bouquet of flowers.