Collectors and those who believe that vintage things have a special charm and will perfectly complement the interiors, are advised to get acquainted with such mysterious and inspiring places like flea markets in Toronto.
Kensington Market
It is the largest flea market in Toronto where one can purchase a wide variety of things — original shoes, vintage clothing and jewelry, a hat with a huge brim, cute vintage cookware, vintage household items, many interesting books, and collectibles, which belong to 40-60 years at affordable prices. It is worth to visit Kensington Market as it has something to admire. In addition to the exhibited goods everyone will be able to see the wall painted with bright graffiti in the spirit of 60-ies of the 20th century, and buildings in the Victorian style. It should be noted that the flea market is often a place where writers, poets, artists and musicians meet. Those who are hungry are advised to visit nearby cafes and food stalls.
Address: 193 Baldwin Street; the market is open every day from 11:00 to 19:00.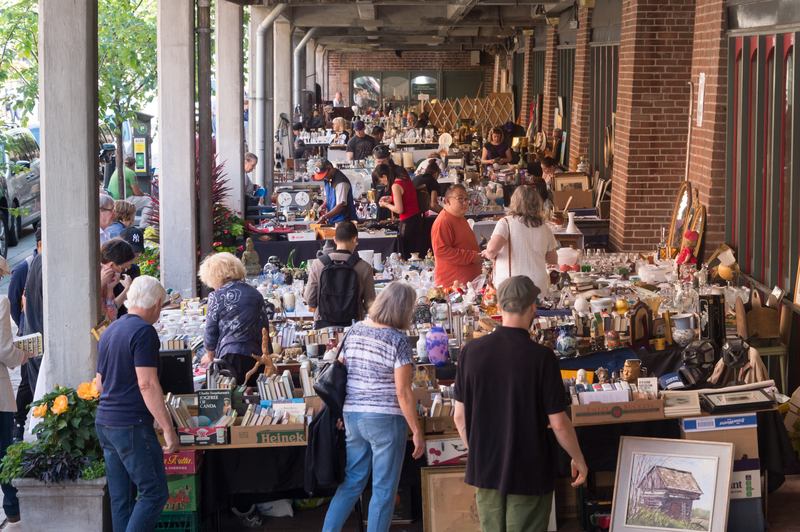 St. Lawrence Market
The visitors of this flea market will be able to buy crystal glassware, French bonnets of the 20-ies of the last century, gold Omega watches, a variety of badges and coins, vintage jewelry and other original items. It should be noted that in addition to the antique collapse, St Lawrence has a farmer's market that operates on Saturdays and offers to buy cheese, meat, vegetables, game. There are other food points, which can be visited any day except Monday. Arriving early in the morning, one can meet with local chefs. One of them can be hired for an additional fee, where he will accompany the client while shopping and give advice about choosing the best products.
Address: 92 Front St. E; flea market is open for visiting every Sunday early in the morning.
Tourists from different countries usually buy clothes from a cotton fabric, ceramics, wood products (local craftsmen used to manufacture a variety of figures, masks and totems juniper and cedar), "dream catchers" and famous maple syrup.